AMAZING PRIVATE CRUISING OPPORTUNITY
YOGA RETREAT IN THE BAHAMAS!
Enjoy your own, customized, tropical yoga retreat aboard the "Oh!" 40′ catamaran in Exhuma, Bahamas while exploring gorgeous, private and pristine coves and beaches. Enjoy sailing, yoga on deck, yoga on the beach, snorkelling, paddleboarding, hiking, swimming with sea turtles, fabulous food (vegan, vegetarian or gluten free options available) and so much more!
Join us for our next sailing/ yoga adventure in 2024!
Customize your experience! Choose from either a single week or a two week adventure:
1 week sailing retreat : December 31, 2023 to January 7, 2024 or January 7, 2024 to January 14
$3,850.00 CDN per couple – all inclusive (plus airfare)
2 week sailing retreat: December 31, 2023 to January 14, 2024.
$5,950.00 CDN per couple – all inclusive (plus airfare)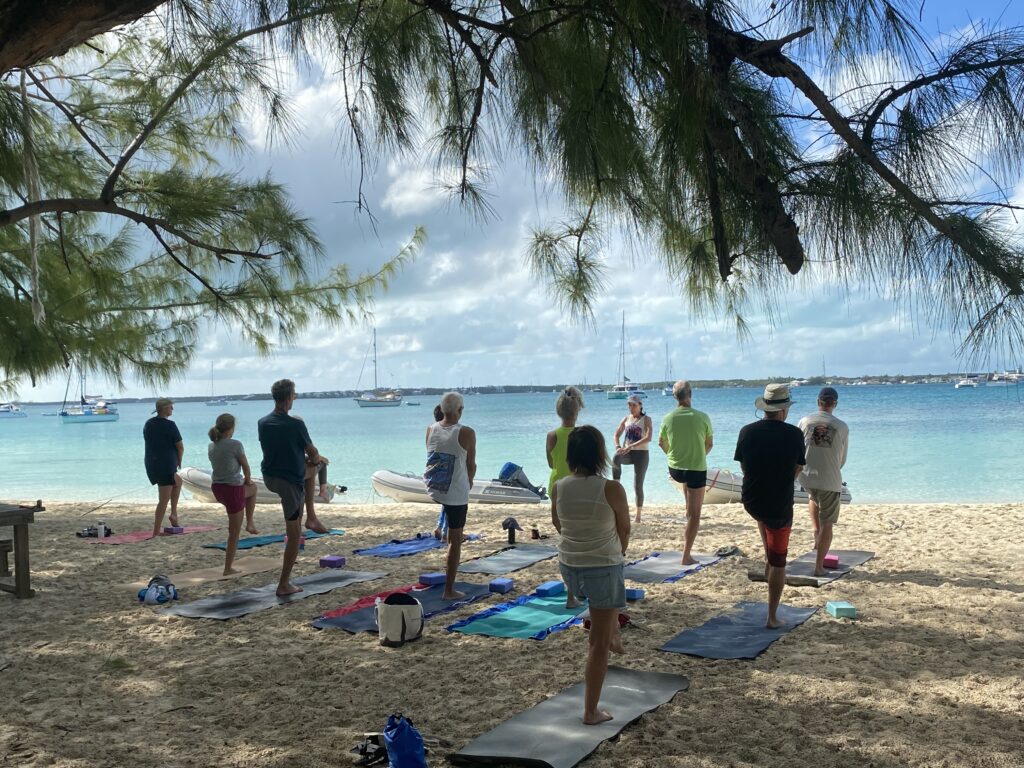 … and yoga onboard Oh!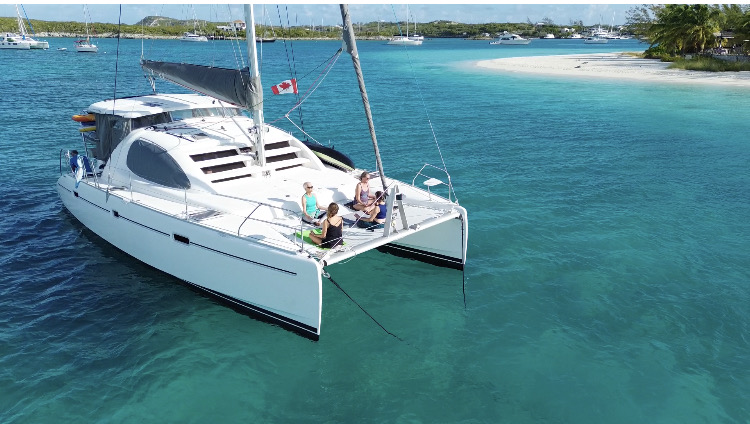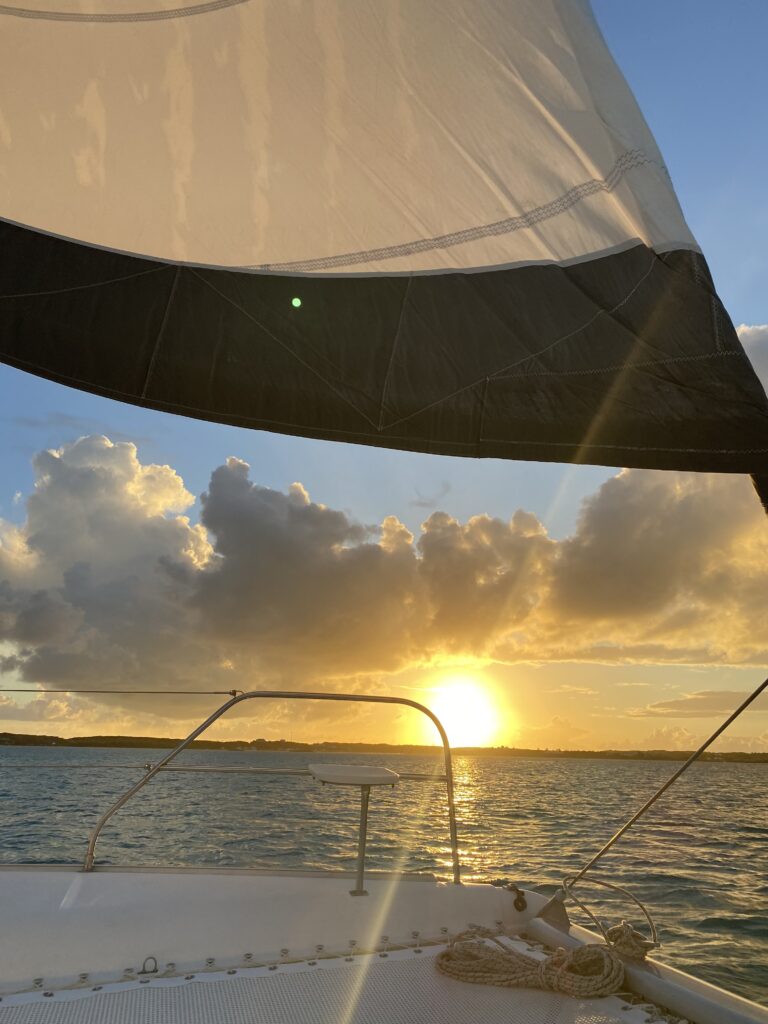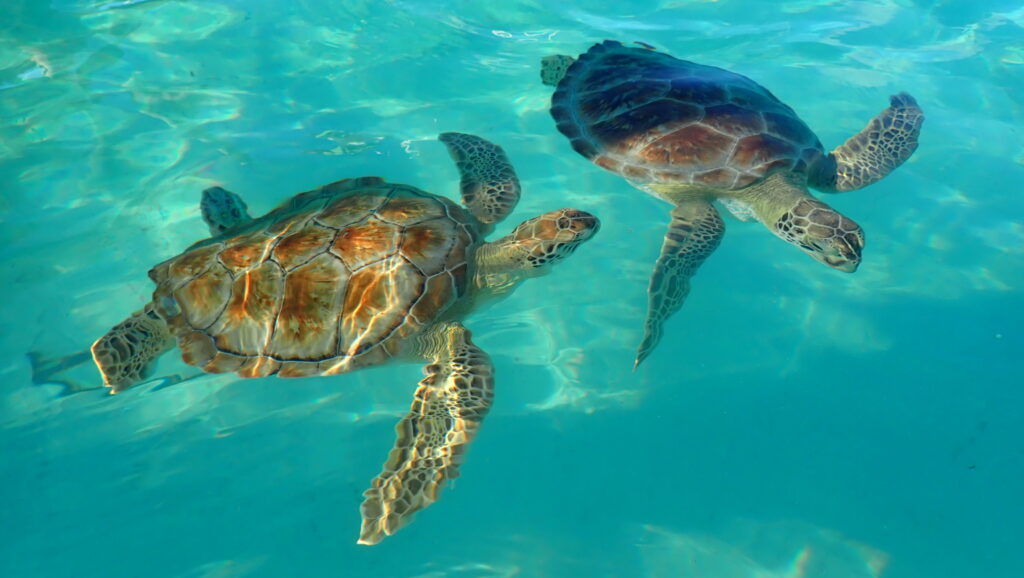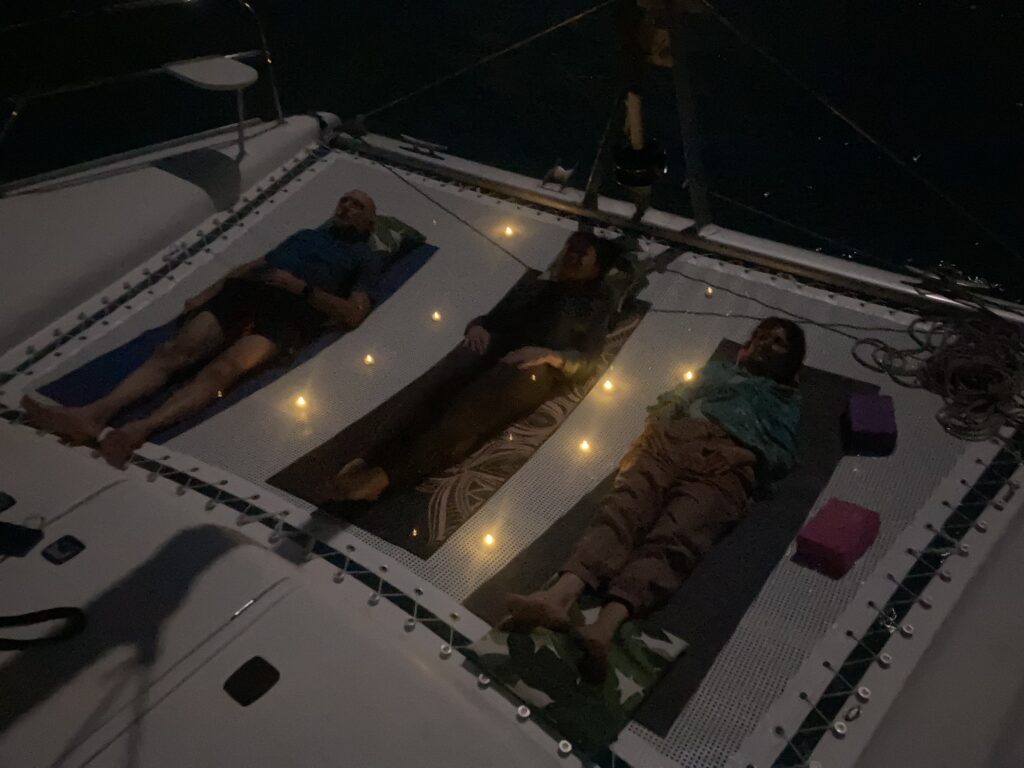 I will customize your yoga experience and we will spend evenings star gazing, singing, meditating … however you wish. A week in paradise. See you on board!
Activated Asana is a Skillful Movement Practice maximizing safety, strength and stability through "organization & activation" and healthy movement mechanics with a long term goal of High Performance Aging. Postures are very accessible and meet your body where it's at. My goal is that students achieve deeper body and breath awareness, build strength and stability, increase their range of motion over time, prevent injury, enjoy improved mental health and life balance and, perhaps, discover yoga and meditation as a personal place of sanctuary.
INVESTMENT: All-inclusive cost of the retreat (NOT INCLUDING AIRFARE)
1 week adventure: $3850.00 per couple (shared cabin)
2 week adventure: $5950.00 per couple (shared cabin) (Prices include all taxes and fees)
Guests fly direct to Georgetown Exuma GGT International Airport (Air Canada is one option) or to Nassau (West Jet is one option) where you connect to Georgetown via a local airline – Bahamas Air or Western Air. It's a short taxi ride to Georgetown where Captain Rod meets his guests. He will stop by a liquor store en route to the harbour (if desired) for guests to purchase whatever alcoholic beverages they may wish for their personal consumption for the duration of their cruise. Then it's into the dingy and off to the sailboat to get settled in and begin your adventure.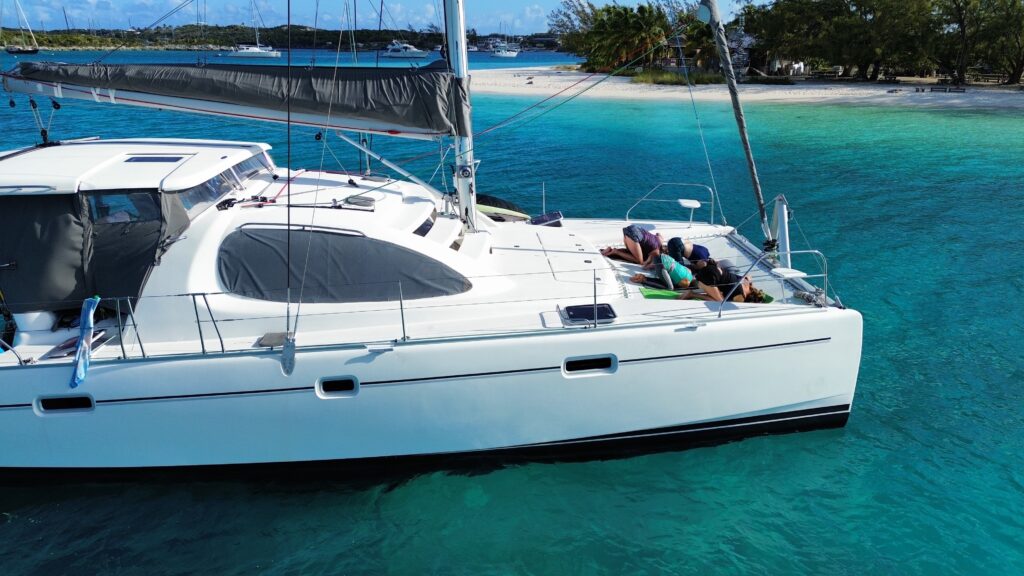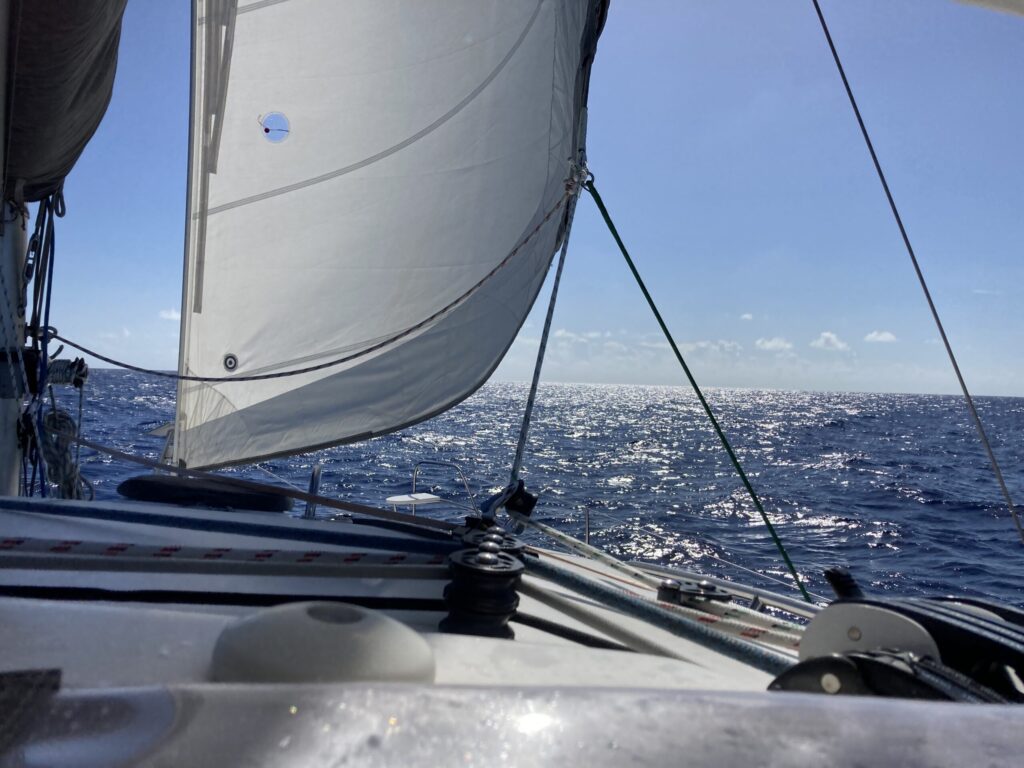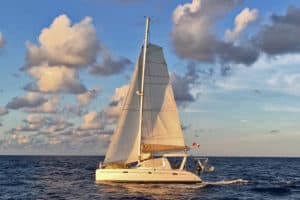 TESTIMONIALS:
Over the past 9 years of sailing Oh! I have enjoyed the company and shared experiences of many guests and clients. High on that list was the yoga retreat week that was taught by Barbara Leah Meyer of www.soulandsong.ca. For many years I have contemplated the idea of running yoga retreats for couples or a small group guided by a top notch professional yoga instructor. In January 2023 this finally came about and culminated in one of the best weeks I have ever had upon Oh!. My yoga practice will never be the same and I am looking forward to hosting more sessions with Barbara in the future.
Our week included 7 yoga sessions and one clinic where Barbara invited the cruising community to join us to learn how to "activate your asana". The feedback from participants was all fabulous. We had private sessions onboard Oh! learning to "activate our asana", relaxed with restorative yoga and experienced the tranquility of Yoga Nidra under a canopy of stars. There were also group sessions at Chat'nChill beach, as well as many impromptu sessions while exploring the beach's and hiking trails of Stocking Island.
But it wasn't just "bend and stretch, reach for the sky", we also got to interact with turtles, sting rays, beautiful coral reefs and the cruising community…plus enjoy a smorgasbord of tasty vegan dishes, baking and the warm clear waters of the Bahamas. I am really looking forward to our next yoga retreat on board Oh! Rodney Morris – owner and captain of "Oh!" January, 2023
My husband and I just returned from a yoga retreat in the beautiful Bahamas aboard a 40 ft catamaran. It was an amazing and unique experience. Barbara led yoga sessions on the deck of the boat and on stunning beaches. The sessions were perfect for people new to yoga and those who practice regularly. Barbara's generous spirit and vitality were uplifting. At the beach sessions we met people from around the world who live the cruising life full time and it was so interesting to hear their stories. Besides enjoying snorkelling, paddle boarding and other water activities in the crystal-clear water, we sat in on music jam sessions on the beach and on deck where Barbara led us in song with her guitar and beautiful voice. Thank you, Barbara, for helping me to check another item off my bucket list of things to do! Leanne LaRocque (St. Albert, AB) April, 2023
Soulful Awakening: a YogaVoice Retreat to Release & Restore
with Barbara Leah Meyer and Anna Beaumont
March 25 – March 31 in Nayarit, Mexico, a lush jungle sanctuary on a quiet coastline near Puerta Vallarta (nearest airport)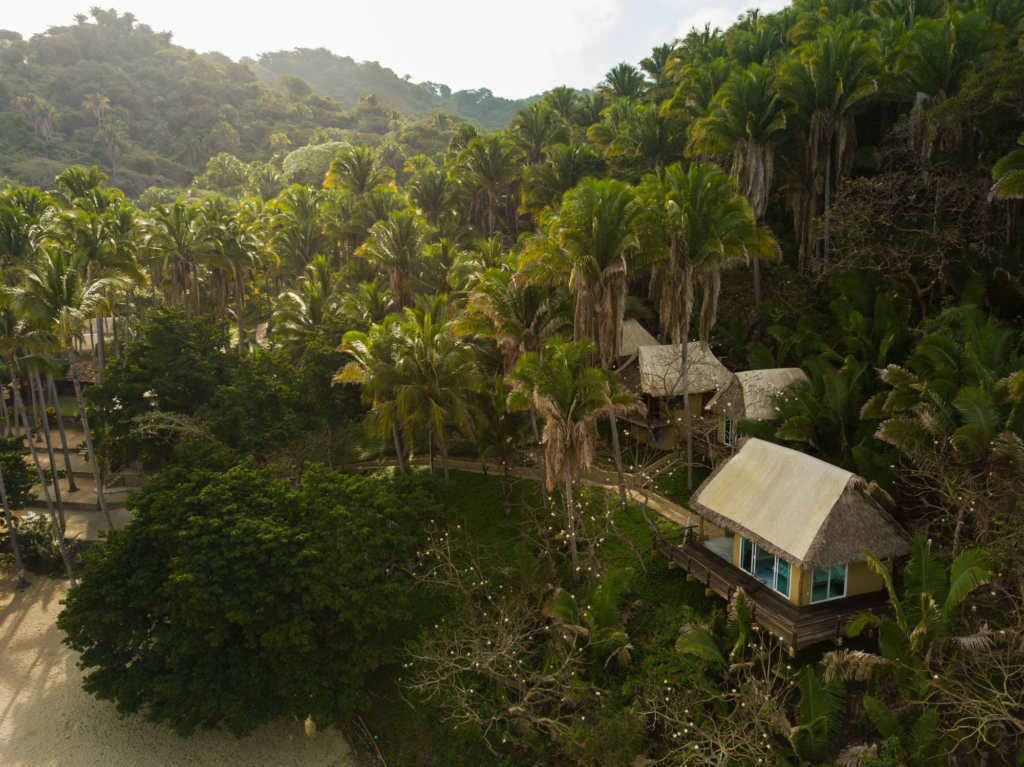 Please click this link for information, photos and direct booking with TourHero:
https://www.tourhero.com/en/epic-adventures/mexico/soulful-awakening-a-yogavoice-retreat-to-release-and-restore-984647?admin_preview=true
"Activated Asana" with Barbara Leah Meyer
All-Inclusive, 4-Day Transformative Yoga Retreat at
REO Rafting, Glamping & Yoga Resort
Yoga overlooking the Nahatlatch River in
beautiful British Columbia
July 14 -18, 2024
A transformative yoga and wellness retreat for people of all levels at the gorgeous REO Rafting, Glamping and Yoga Resort in beautiful BC. This totally unique retreat includes an "educational" component – 3 morning slideshow presentations of 3 "Frameworks" explaining the philosophy and science behind activating muscles and fascial lines in your yoga practice. Enjoy learning, sharing, nutritious movement, meditation, music, forest and canyon hikes, delicious meals and desserts, unlimited yoga, evening social hours, dark sky star gazing, nightly campfires & much more during our amazing 3-day retreat. Expect to grow and make progress during this transformative wellness experience as you move and sleep to the sound of the beautiful, jade-green Nahatlatch River.
Activated Asana is a Skillful Movement Practice – the sweet spot where modern movement science and yoga meet. Through a movement system called "organization & activation" we maximize healthy movement mechanics and develop skillful movement with a long term goal of High Performance Aging. Postures are very accessible and meet your body where it's at. We will learn how to build stability and strength, increase our range of motion over time, prevent injury, achieve greater body and breath awareness, enjoy improved mental health and life balance and, perhaps, discover yoga and meditation as a personal place of sanctuary.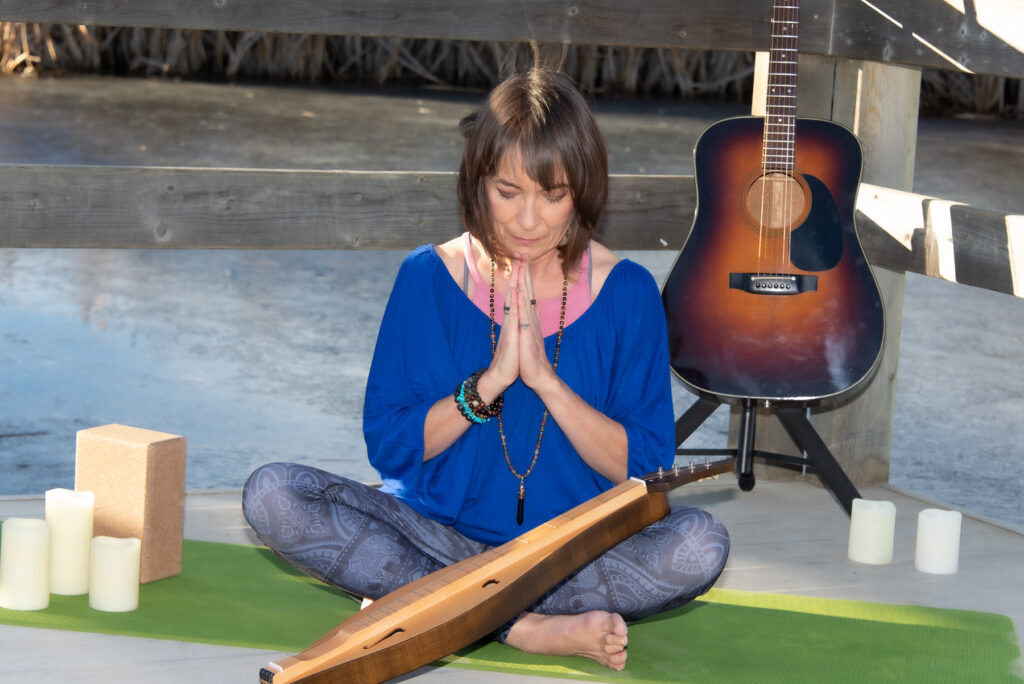 BOOKING OPEN SOON!
Retreat Details:

Activated Asana is where modern movement science meets yoga. It is a new style and concept of yoga suitable for both beginners and experienced students. You'll learn an intuitive movement system called "Organization & Activation" which can be taken into all other yoga classes (and physical activities). There is a strong focus on building stability and strength, which is used to safely increase range of motion over time. Postures are very accessible and the intensity can be dialed up or down to meet your body where it's at. Over the retreat we will explore three Frameworks (see below).
Expect to work, learn, and make progress during this transformative yoga and wellness experience overlooking the beautiful, jade-green Nahatlatch River.

Framework #1: Skillful Movement & High Performance Aging
A look into the vast world of Movement Science, delivered in a context that makes sense to yogis. What's the difference between skillful movement and exercise? What decisions can you make today that will set up your later years for a life of independence and High Performance Aging?

Framework #2: The Law of Stress & Rest – Injury-free Yoga!
Believe it or not, yoga can lead to injury! This workshop will cover everything you need to know about the types of injuries yogis get, why they get them, and most importantly – how to stay out of the injury hole in the first place!

Framework #3: The Law of Priority – Stability First!
The Law of Priority is a basic guiding principle of Activated Asana that is like getting the keys to the kingdom! Find out why applying this law will make you better at yoga and any other activity you do!

Testimonials:
"Barbara introduced us to the amazing world of Activated Asana yoga, which we were completely new to. We realized the incredible significance of this restorative and safe practice as it provides a positive and healthy guide to our movements. The combination of her voice, diverse instruments she played for us, poetry readings, chanting, and spiritual insights was engaging and joyful. The experience was enriching. The perfect blend of meditation, movement and learning was beautifully orchestrated by her, and she took excellent care of us throughout the entire experience. Thank you." Tzafi, Guy and Dr. Eytan Weinberg – July, 2023 – REO Rafting Resort)
"Barbara's Activated Asana retreat was simply amazing. It is a great experience for anyone interested in understanding how muscles work in our bodies and how we can activate them and protect ourselves from injury when exercising. The retreat is a mixture of workshop learning as well as active practice. This knowledge has improved the way I move throughout the day as well as how to practice my yoga and other activities without injuring myself. Barbara's music was a special addition to the course.
Participants don't have to be practicing a lot of yoga to learn and benefit from this retreat. You just need a desire to improve your body strength in a healthy way to make your life the best it can be. I highly recommend this retreat." Naomi Erickson – July, 2023 – REO Rafting Resort)
"I have been doing yoga daily for 6+ years and felt that if I didn't stretch daily my arthritic hips and my tight hamstrings would not be happy. However, with time, I was not seeing improvement and, in fact, my hips and hamstrings were aching more and more. Sleep was becoming a problem and I was using a massage gun and A535 regularly. Then I signed up for a workshop on Activated Asana by Barbara Leah Meyer and my world changed. After this course, plus participating in some of her Saturday morning classes, I have learned that pushing myself to get deeper into the pose, and really stretching out my hips was what was hurting me. Now having the understanding learned from Barbara, I need to activate my muscles in the asanas and build up my strength in these poses so that I am not stressing out my joints. I would highly recommend taking a course from Barbara on Activated Asana. She was very thorough in her explanations and demonstrations, making it all very easy to understand. It was a game-changer." Leona Cook (yogi) – November 2022
"Attending this workshop provided me with a new way to look at movement. This is for anyone who wants to learn more about how everyday movements can become more intentional and prevent injury for the future. Barbara is a great facilitator and shares her passion and knowledge in a way that makes the experience welcoming and engaging." Larissa Paul (Yoga Instructor) – February, 2023
I had to walk across icy parking lots this week, and I was amazed by how confident my body was when I activated those legs and feet! Also, when I've been standing in my usual bad posture at school and my back starts to ache, I know how to turn on a much safer and comfortable posture… That is the key that I absolutely needed." Kelly Collins (elementary school teacher) – November 2022
"A wonderful course for everybody who practices yoga or teaches yoga. Barbara is just so wonderful and so knowledgeable and I really enjoyed today. I will definitely be taking this into my teaching and my practice." Michele Isaac (Yoga Instructor) – November 2022
"I attended Barbara's Activated Asana – Skillful Movement and High Performance Aging Workshop in February. Barbara is so inviting and provides a beautiful experience to share and learn. The information was valuable and something I could take away and apply to my yoga practice and my daily activities including housework, gardening, walking and hiking. Leading with compassion and acceptance, Barbara was open to sharing and listening to personal experience and took the time to address me and others individually during our learning and practise. Barbara passionately shares her knowledge to guide her students in achieving an active health span for many years to come." Susan Brooks (Yoga Instructor) – April, 2023